101 Affordable Dramatic Play Costumes and Props for Kids
Teachers are you looking for smaller quantites of Dramatic Play props or costume parts with out spending a ton of money on more than you need?
Parents, you can gift a teacher some fun things for the classroom. Check out the newest and current inventory on Heart Felt Play Store. before they sell out for Halloween. Last date to order for Trick or Treat night-while supplies lasts is now October 21, 2017.
This post is in the process of being update; please bear with our editing of image sizes. Yikes! Heart Felt Play Store has GROWN! How do we stuff more on this page!
Parents are you searching for one on-line store to purchase single items of affordable dress-up clothes or cheap Hallowen costumes that aren't creepy or fewer than a dozen party favors in the kids' favorite themes? Check out updated Heart Felt Play Store. Clickable links below take you directy to over 100 store products…
Heart Felt Play Store Kids love the Fun Collection. Moms and teachers love the affordable prices with postage and handling included in the pnew pricing structure. All conveniently gathered collections of kids favorite themes. Grow with us.
Start earning COOL BEANS rewards now. https://heartfeltplaystore.nononcentsnanna.com/New inventory
New inventory is  being added weekly to this one grandma operation. Tho' most Heart Felt Pay Store orders happily arrive within 3 to 5 days ( US only) please allow up to 2 weeks for delivery. All order are mailed via USPS directy from Heart Felt Play Store home in Colorado.
FREE shipping on orders over $39 with Prioity Mail.
But WAIT! Use the coupon code on the iamge right below. It expires soon!
Heart Felt Play Store Dramatic Play Merchandise is for children OVER age 3.
 11. Image soon …Construction vest
12.

New addition to our Dinosaur Collection. These are going to be a BIG hit with the kids!.

13. Dinosaur Cap: hand-crafted Made to order SOLD OUT

14. Tropical Island Sunglasses for Kids

15. Troll Hair Inspired Finger Puppets and Poppy Pink Troll Inspired Headband Set

16. Jungle Animal Ears Headband and Socks Set: Cheetah

17. Jungle Safari Pretty in Hot Pink Pith Hat

18. Jungle/ Safari Kakhi Party Pith Hat

19.Old West Influenced Child Felt Cowboy Hat

20. Horse Foam Visor Small 21″heads

Close out due to small size.

21. Giraffe Ears n Tail Set

22. Super Hero DIY Masks for the Kids to Color Their Way

23. Race Car Checkered Flag Party Treat Bag
 

24. Zoo Animal Beanie Hat Giraffe

 

 

27. ZOO Animal Visor ELEPHANT

28. ZOO Animal Visor GIRAFFE
 
29. ZOO Animal Visor LION is easy peasy costume

 
30. ZOO Animal Visor MONKEY

 
31.. ZOO Animal Visor TIGER

32. ZOO Animal Visor ZEBRA

33. TIGER Ears Head Band Dress-up

34. Tiger Ears n Tail Set

35. Farm Theme Red Barn Favor Box

36. Farm Animal Visor: Duck

For small 21″ heads. Close out due to small size

37. Farm Animals: Horse Bandana

38. Tea Party Totes

Similar item in stock with stickers..editing

39. Tea Party Hats

hand decorated. all different. At this price no choice but will send images for you approval prior to shipping in box.

40. Road Play Mat:

Hand crafted fet. Trucks not included.

41. Sun Shine: Felt Stuffed

hand crafted and stuffed

42. Pig Noses: set of 3

Also sold individually with pig (dog) ears on another catalog page.

43. Pirate Hat: Child's Size

44. POS: Dress-up Yellow Easter Apron Set of 3

Hand crafted on of a kind custome order. Fabric varies Images sent for prior approval before shipping. Use contact form to start conversation with Heart Felt Play Store owner.

45. Pirate Hats, Game Prizes and a Castle to Plunder, too!

Last custom package exacty like this one at this price.

Build a web site like this one with
Nanna's Website Hosting

Get a 20% discount on any of our

shared hosting plans

using the promo code nanna20

46. Pirate Party for 6: Steal of Deal in Savings

Custom collection. this is the last set exacty like this. Price and packages are subject to change. Now in GRAB BAG.

37. On the Farm Pig Snout and Ears Set

38. Finger Puppets Set of 5 Jungle Animals

39. Finger Puppets Set of 5: Rainforest

40. Finger Puppets Set of 5: Woodland Critters

TOO CUTE to last in inventory for too long!

41. MONKEY Hooded Cape Jungle Safari Costume

Check out black or grey leggings in catalog

42.Magnifying Glass for Kid Mystery Explorers

43. Mermaid Tail Aprons

Use contact form for custom orders at this time for. hand-crafted. Materials vary. last ones in GRAB BAG

 
44.LION Jungle Safari Visor
 

45. Monkey Jungle Safari Visor

 

46. Tiger Jungle Sarfari Visor

 
47. Zebra Jungle Safari VIsor

48. Jungle Safari Animal Zebra Ears n Tail Set

49. Mad Hatter inspired: Purple Rose Talking Flower

Hand crafted. Each one varies. Start conversation by using contact form on any page in catalog.

50. Mad Hatter Inspired Purple Daisy Headband

Hand crafted. Each one varies. Start conversation by using contact form on any page in catalog.

51. Mad Hatter Inspired Headband: Red Playing Card Pre-order

Use contact form on any catalog page to start the conversation. Hand crafted custome pre-orders.

52.LION Hooded Cape Jungle Safari Costume

53. Jungle Safari Binoculars and Direction Compass 2 piece set for kids

54. Jungle Safari Hooded ELEPHANT Cape
55

56. Jungle Safari Hooded MONKEY Cape

57. Jungle Safari Hooded ZEBRA Cape

 
58. Finger Puppets set of 5 HORSES

59. Finger Puppets Set of 5 Bumble BEES

60. Jungle Safari Animal GIRAFFE Ears

61. Jungle Animal Masks Set

Display Mode in Image. Your set comes un-assembled

62. GIRAFFE Ears Jungle Safari Animal

GIRAFFE Ears Head Band Dress-up

63. Jungle Safari Animal Giraffe Ears n Tail Set

64. Jungle Safari Animal Visor ELEPHANT

64. Jungle Safari Animal Visor GIRAFFE

66. Farm Animal Pig Snout Bandana
 

67. Farm Animal Hooded PIG Cape
 
68. Farm Animal Hooded LAMB Cape
69. Farm Animal Hooded HORSE Cape
70. Farm Animal Hooded COW Cape

71. Finger Puppets: 5 Pirates

73. Finger Puppets: Set of 5 Cats n Dogs Set

74.Farm Animal Foam Visor: COW

Small heads only 21″ Close out due to small size. clsoing out of the last few.

75.Farm Animal Cow Face Bandana

76. Farm Animal Barnyard Rooster Mask Kit

77. ELEPHANT Ears or Mouse Ears Head Band Dress-up

78. ELEPHANT Hooded Cape

79. Dress-up Spotted Dog Set Hand-crafted

80. Dress-up Play Long Yellow yarn Braided Wig: Special order at this time. Please use contact form.

81. Dress-up Play Long Dark Brown yarn Braided Wig: Ask about GRAB BAG

82. Dress-up Play Long White Yarn Braided Wig: Special order at this time. Please use contact form.Ask about GRAB BAG

83.Dress-up Play Long Warm Brown Yarn Braided Wig: Special order at this time. Please use contact form.Ask about GRAB BAG

84.Dog Ears and Nose: Hound Dog Costume Set

85.Dress-up Black Cat T-shirt and Foam Mask set Custom Order

Made to order at this time. Price subject to change

86.Dress-up Box Jungle T-shirts, Tails, Masks or Ears Last Set

Made to order at this time. Price subject to change

87. Dinosaur Spine T-shirts Made-to-Order

88. Dinosaur Kit with Green Dinosaur Tail for Dino-myte Savings!

89. Dinosaur Kit with Purple Dinosaur Tail for Dino-myte Savings!

90.Dinosaur Kit with Red Dinosaur Tail for Dino-myte Savings!

91.Dinosaur Discovery Excavation Kit for Kids

92.Cow Foam Visor Small

93.Cow Farm Animal Hooded Cape

94.Cow Face Bandana

95.Costume Leggings in Black

Limited supply. Also in grey. Affordable. Add on to hooded cape costumes

96.Costume ELEPHANT Hooded Cape

97. Costume Dinosaur Tails are Stuffed and Green

98.Costume Dinosaur Tail Stuffed and Ready to Wear Purple

99. Costume Dinosaur Tail for Kids in Red

101.Construction Worker Hat

102. Cat Ears Headbands set of 3
So new they got squeezed in…
    103.              Elephant Mask & Grey Leggings Set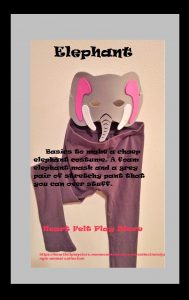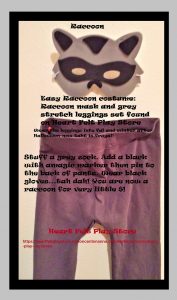 104. Raccoon Mask & Leggings Set