Hits: 466
Before the Halloween Pop Up Shops open their doors in town to lure you in to horrifying prices let's think about how to save money this years by making a DIY Halloween costume with your child. I will list    of my own ideas then share with you a list of craft supplies, trims and pieces parts to embellish your DIY costume along with your creativity.
Just for fun sit down with your child to make a list of ideas that they would like to dress up as for Halloween…yes I know they just went Back to School, but, this will be a fun conversation that will last for weeks to come.
I have 8 colors of basic Tee-shirt in my e-commerce store catalog plus a fun variety of costumes pieces parts. How many ideas for tee-shirt costumes can we come up with? I will get us started thinking. then as more creative ideas come in I will add to this post. Click HERE to view all current inventory in Heart Felt Play Store Catalog pages with Craft Tee-shirts
Apple Green is the kids favorite color to make a Halloween creature: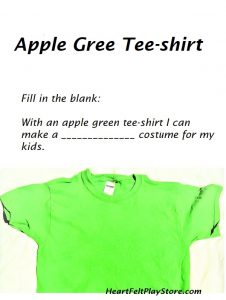 Very Hungry Caterpillar
Green Dinosaur – click to see Heart Felt Play Store for Green Dinosaur Tail
Little Green Apple or the stem of a flower
Fish
Stalk of Celery or Green Beans add green pool noodles
Lettuce in a BLT sandwhich
Peter Pan or Tinker Belle ( Heart Felt Play Store has green wings and green tutu
Turtle
Green Crayon
The Grinch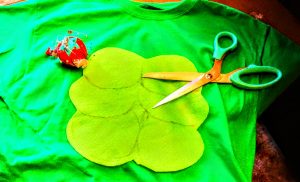 One Basic Red Tee-shirt = so many costume possibilities.
Fire Fighter tee shirt
Big Red Dog
Hot Dog
Valentine/ Heart
Strawberry/ Cherry/ Watermelon
Where's Waldo add white duct tape stripes
Red Pop-cycle
Red Crayon
Tomato in a BLT sandwhich
Bottle of Red Nail Polish
One Black Tee-shirt with so many possibilities for Halloween costumes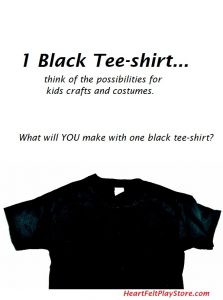 Black Bat
Skeleton make bones with white duct tape
Black Dog
Black Bug of spider
Bumble Bee with yellow duct tape stripes
Black Sky with stars and moon
Black Cat or Panther
Ninja
Panda add a white felt chest Click HERE to view  Panda Beanie from Heart Felt Play Store
Pumpkin Orange Tee-shirt is a must when Halloween is in the air.
Pumpkin
Carrot
Tiger/ Cat with black duct tape stripes. See image above. Click HERE for Ears, Nose and Tails in Heart Felt Play Store catalog
Fall Leaf
Fox -See Heart Felt Play Store for Furry Orange clip on Fox Tail
Fred Flintstone
Orange Crayon
Orange Pop-cycle
Prison Orange
Construction Workers vest with yellow duct tape stripes. Heart Felt Play Store sells plastic construction worker party hats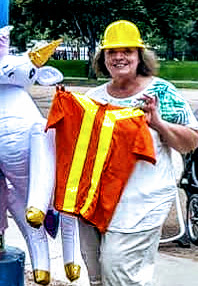 Click HERE to browse HeartFeltPlayStore.com
I am always open to ideas that kids come up with themselves. Feel free to post your kids' ideas on my Facebook page. Click HERE to follow @HeartFeltPlayStore on Facebook and share you ideas for cheap tee-shirt costumes.
To brows and Follow 100's of Halloween Costume Ideas for kids, couples and families on Heart Felt Play Store  Pinterest boards click HERE and Costumes You Can Make Yourself click HERE
One Shade of Gray Tee-shirt and so many ideas to make a Halloween costume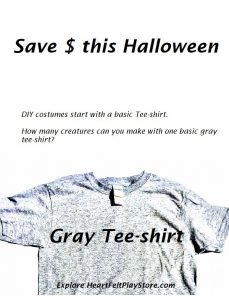 Gray cat with or with out stripes Add Gray Cat Ears from Heart Felt Play Store
Grey Sky with clouds and rain drops
Old Grey mare she ain't what she used to be
Grey's Anatomy
 Mouse -Click to see Heart Felt Play Store Mouse/ Elephant Ears
Elephant -Click to see heart Felt Play Store for Elephant Visor and Elephant Beanie
Shark
Raccoon -see Heart Felt Play Store for Furry clip on Raccoon Tail
Shades of Grey add grey paint sample strips
Grey Dinosaur See Heart Felt Play Store for Molded Grey Dinosaur Hat
Who wants a Discount Code to Use for Heart Felt Play Store Costume Pieces parts?
Go to HeartFeltPlayStore.com front page. Do you see the scrolling banner? Wait for it…there will see the most up-to-date DISCOUNT CODE for a limited time.
Also check our Heart Felt Play Store page on Facebook. The banner at the top will also show a current DISCOUNT CODE or Special. Like the page and I will acknowledge you LIKE and offer you a one time Special offer. Pm me if I do not respond in 24 hours with your special code.