Hits: 287
We in the United States of America are so fortunate to have free education for our young school children.
In honor of all the wonderful teachers everywhere my e-commerce shop HeartFeltPlayStore.com  is giving away two 100 Days Brighter boxes to two lucky teachers in the Colorado Springs area as we celebrate Back to School Days at Tantrums Resale in Colorado Springs, Colorado on August 5th, 2018
For the rest US residents you are not left out. See below to VOTE on your child's favorite birthday party theme and be rewarded with a discount code from HeartFeltPlayStore.com
How do teachers in the Colorado Springs area try to win one of two 100 Days Brighter boxes?
Go to @HeartFeltPlayStore on Facebook. The post will be pinned to the top thru Saturday night, August 4th.
Teachers may go to the post with the image above posted on Facebook
leave a comment telling us why you love teaching children.
Get as many people as you can to LIKE your WHY? .
The two top LIKES the teachers get on their comments WIN one of two 100 Days brighter box
Voting ends at bedtime Saturday night at 7:30 PM
Teachers must be able to pick up at Tantrums Resale in Colorado Springs, Colorado the week of August 5th.
Everyone, runners up, teachers, parents, grandparents and students will receive Aniti-Bullying Stickers 

FREE from Heart Felt Play Store for the asking.

Questions? Feel free to email us at HeartFeltPlayStore@Gmail.com
Tantrums Resale  is open on Sunday August 5th for their Back to School Event Noon to 4 with some awesome vendors including moi , with my
HeartFelt Play Store.com
*Malika Bourne, founder and owner of HeartFeltPlayStore.com reserves the rights to change details as necessary for clarity and to set reasonable restrictions.
This little promotion for  and the Back to School event at Tantrums Resale in Colorado Springs, Colorado is restricted to local teachers of the Colorado Springs area only. There is no cash value.
What will be the kids favorite birthday party theme in 2018?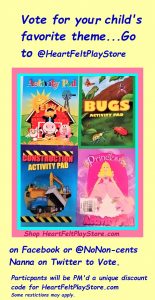 Moms, Dads, grand parents, teachers…start a conversation with your children about  what theme interests them the most.
This a great way to open the lines of communication with what interest your children.
No Non-cents Nanna,me, the author of this blog, has FREE activity books to go with 4 different play themes of party favors abd Busy Bags published in HeartFeltPlayStore.com catalog…in limited supply to those, only those who help me determine what  kids ages 3 to 10, are loving this year, besides video games.
This offer may end at any time when the promotional supply is exhausted.
Currently I have activity books in 4 themes to VOTE on:
Farm
Bugs
Construction
Princess
or Specify "Other"
Let the VOTING Begin…
…on for what may be your child's favorite birthday theme this year…(until they change their child-like mind).
Please go to one or more of the following Social Media pages to cast your vote.
Facebook page @HeartFeltPlayStore
Pinterest Heart Felt Play Store Board
LIKE / Follow and comment on the post with this image or anywhere on the page.
A valid US Facebook user will be sent via Messenger or PM a unique discount code to use on the same theme you voted for.
it is my way of thanks for sharing the heart-felt-love.
No cash value on this promotion
If you don't get a quick response from Heart Felt Play Store and you wonder if Messenger is working ( it can be slow sometimes) Feel free to copy and paste your comment in an email to HeartFeltPlayStore@Gmail.com ( We have no operators standing by, so it may take up to 48 hours ( I hope not) for a personal response. i don not want to miss anyone.
To sweeten the deal for all your effort to post on our Social sites, for those who want to sahre in an email the ages, boy or girl, birthday date, I can better customize a SWEET deal for your needs as long as my Heart Felt Play Store inventory lasts. I promise not to ever share your private information.
If you want to make a WISH on our catalog's WISH LIST it will greatly help me to plan inventory ahead of time. There is never an obligation to purchase, tho' I love when you do.
Did I forget any thing?
Your feedback is important to me.
I want to thank you in advance for helping Heart Felt Play Store grow and keep costs as low as possible.
Malika Bourne the No Non-cents Nanna