Hits: 24
Fun for kids to play their favorite pre-historic beast. Each mask is a different color combination and different shape dinosaur face.
Perfect party favor for a dinosaur birthday party. Also a great addition to a pre-school dress-up/ dramatic play  area. but, order early…they sell out faster than a dinosaur can walk…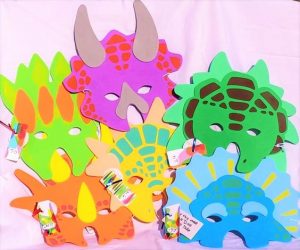 Full Dinosaur masks sset  product details below….
Explore the store: Heart Felt Play Store Collections then SHOP for dinosaur tails; excavation kits; Dinosaur shine and reaveal activity books; dinosaur bones and stickers and tattoos. all sold seperately.
 Great gift for dress-up closet.
Birthday party of 6.
Dinosaur unit for pre-school class.
Dramatic play.
Dinosaur/ Dragon felt tail sold separately. NEWS FLASH!! Manufactured dinosaur tail ends are HERE!. Explore the Store for more dinsoaurs stuff the kids love to learn with.
Wipe clean with damp cloth.
Warning: Not intended for children under age 3. Child could bite off foam then choke on small pieces.
Enjoy the savings when purchasing this set of 6. Sold individually at local events for $3.00 each.
Manufactured in China for OTC
Guaranteed satisfaction for these manufactured items.   Notify  Malika Bourne the No Non-cents Nanna's CEO of Heart Felt Play Store of any issues.
Shipping fees and sales taxes are applied at check out.
Allow up to 7 to 14 days for delivery, so, order early*. (Generally orders arrive at customer's door with in 3- 4 days, but, No Non-cents Nanna is not able make any promises on 3rd party deliveries and bad weather delays.)
No Non-cents Nanna's RULES apply. Heart Felt Play reserves the right to refuses any order when credit cards are tagged as HIGH RISK.
Our unique inventory of kids favorite learning themes is limited at this one grandma on-line operation. Order early to avoid last mintue disappointments.Dinosaur masks trend sell out quickly.
Contact Malika Bourne owner 30 days in advance of your special date for larger quantiites for more than 3 to 6 in your party.
https://heartfeltplaystore.nononcentsnanna.com/
Note prices are subject to change.
Follow No Non-cents Nanna's  Facebook Page for special offers and early childhood insights from the No Non-cents Nanna.
Follow Dinosaur Dig Board on Pinterest
I'm a Shopify merchant with Buyable Pins and I want a conversion tag. I'm not an advertiser.
Feel free to contact founder and owner of Heart Felt Play Store for your questions or concerns by using the form below.
Heart Felt Play Store is a division of More & More