Farm Animal Visors for Little Kids Heads
Which farm animal visor will the kids choose to wear? Pig, Cow, Duck or Horse?
Heart Felt Play Store  presents the cartoon face animal visor. This foam visor will shade kids eyes of a small head  *during dramatic play on a "sunny farm day" to learn more about farm animals during interactive play. Final SELL OUT …going. going…almost gone.. but will take special ordes with pre-payment. Fit only small head 21inches
These visors are so cute to wear, but, will only partially shade a child's face. I would suggest to be only used for play rather than protecting from harmful sun rays.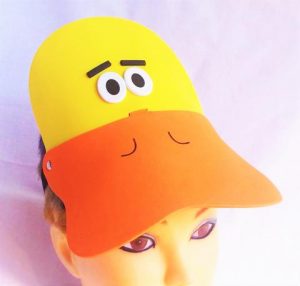 Click HERE to buy Duck visor from Heart Felt Play Store catalog while stock lasts. Going…going..
Each foam visor is held on head with an elastic band for total circumference of 21 inches.:  Fits ages 3 to 5 small heads.
Mailed flat in bubble wrap envelope to save about $4 in shipping if mailed in a box. Use a dot of glue to hold tab in place.
…Interupting this blog psot for a special announcement…
…cow, horse, pig, and lamb critters are expected to land at Heart Felt Play Store by August 15, 2017…INCOMING..INCOMING….. Duck a cover for farm animal hooded capes...Images are not availabe, yet…finger puppets will be falling from the sky..( I made up the falling from the sky part…)
https://heartfeltplaystore.nononcentsnanna.com/collections/farm-barnyard-collection
Heart Felt Play Store is considering discontinuing these items once sold out as these visors are SMALL and won't fit too many ages of kids. Your feedback has been heard. Heart Felt Play Store WILL now take special orders for these small visors when given 2 weeks advance notice pre-orders
WARNING! Choking hazards if bitten off. Not intended for children under age 3.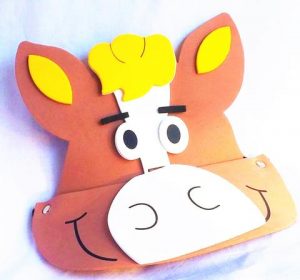 Horse face visor Early childhood benefits:
https://heartfeltplaystore.nononcentsnanna.com/products/farm-animal-foam-visor-horse
colors of different animals
Early childhood benefits:
dramatic play
colors of different animals
science
imagination fun
vocalize animal sounds: communication
*Prices are subject to change. Shipping fees and applicable taxes are added at check out.
Allow up to 2 weeks for delivery, so, order early*. (Generally orders arrive at customer's door with in 3-5 days, but,No Non-cents Nanna is not able make any promises dues to Murpahy's Law.)
*Please note: Heart Felt Play store has only one official employee: the No Non-cents Nanna. There is no staff standing by to anwer your messages, tho' Nanna gets back to you as soon as possible during regular business hours. Allow up to 5 days for responce. What customers need to know BEFORE Purchasing from Heart Felt Play Store  Click HERE to read.
Manufactured in China. OTC
Guaranteed satisfaction for these manufactured items.*   Notify  Malika Bourne the No Non-cents Nanna's founder/ owner of Heart Felt Play Store of any issues.
Follow No Non-cents Nanna On the Farm Theme for Kids
Check out these Farm theme related blogs posts on No Non-cents Nanna web site: http://nonon-centsnanna.com/working-on-farm-theme-for-kids-activities-behind-the-scenes-sneak-peak/
---
Follow my Facebook Page and start earning COOL BEANS Points.
Check out Heart Felt Play Store NEWS Blogs
Note: Color Your Own Farm Animal Masks are back ordered…add to your WISH LIST today.
I'm a Shopify merchant with Buyable Pins and I want a conversion tag. I'm not an advertiser.
Feel free to contact founder and owner of Heart Felt Play Store for your questions or concerns by using the form below.