Heart Felt Play Store to Show at Spring Into Gifts Colorado Springs
Hits: 95
The No Non-cents Nanna will be making a rare POP-UP store appearance with fun stuff for kids at a local Colorado Springs, Colorado event: Spring Into Gifts Saturday April 8, 2017 hosted by Magical Productions at BeMore Event Center of Colorado Springs, Colorado is tucked with in the southeast side of North Academy and Austin Bluffs. ( Kentucy Fried Chicken / A&W is on that corner.) Below is a sneak peak of Heart Felt Play Store
"Shop with your local small business owners for gifts for Easter, Mother's Day , graduations and weddings. Bring the kids they can have an Easter Egg hunt while you shop. We will also have a Fashion Show by Eva Juzwiak with Saunders Costumes who won The Colorado Peoples Choice Awards for best fashion designer"
https://www.facebook.com/BeMoreEventCenter/
Get your hot dogs from Big Papas Grill while you are there enjoying the shows and shopping from a wide variety of vendors including No Non-cents Nanna's Heart Felt Play Store.
Read below for the RING-UP YOUR Own Sale Option:
Click HERE to view Heart Felt Play Store POP-up Collection exclusivley for April 8th, 2017 at the BeMore Event Center 3958 N Academy Blvd from 10 to 4.
Take advantage of Heart Felt Play Store local Display Close-out: worn by a Dummy.
No Non-cents Nanna is not setting up a sensory overload display, but, simply big THEME boxes marked with posters seen below.
Let's Make a DEAL! Theme BOXES. Buy one item or the entire remaining items in entire box. Approved by No Non-cents Nanna , of course.
FREE candy from the No Non-cents Nanna's Heart Felt Play Store while suppy lasts. Limit one piece per person. No Non-cents Nanna Rules apply
Jars of little toys/ party favors at prices kids can afford. Preer cash for sales under $1. Tax is included and charged in the $1 and below $1 cash prices.
Browse Heart Felt Play Store catalog collections. Note: not everything will be availble at this local event. UNLESS: you, customers PRE-ORDER/ Pre-PAY on the on-line store catalog for pick-up no later than 7pm Friday night April 7th. Note: This ONLY will work for those who can pick-up their order at the actual event. this means some limited stock product may be SOLD OUT before the event starts.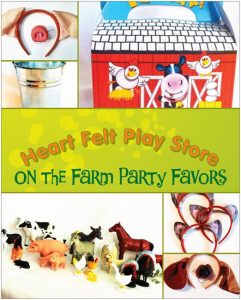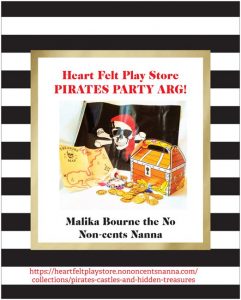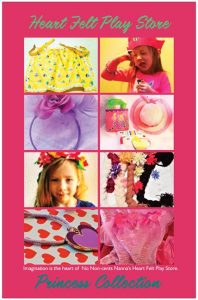 Ring Up Your Own Sales Option:
It is expected to be very busy with kids. And, who wants to stand in-line between dance or Karate shows to get rung up by one old Nanna when mom or grandmas can ring up their own sales on their own cell phones? Malika Bourne aka the No Non-cents Nanna will have her own Shoify POS card slider, also.
Customers will be directed to the POP-UP POS link set up exclusively for this local event on April 8, 2017. Click HERE
Time Saving Catalog Pages:
In the interest of time and "labor saving costs" No Non-cents Nanna has juggled prices for Mark-Down items to $1, $2, $2.50, 3, $4, $5. $10, $25, and $50. There will be lists of of POS products under each $ value. Before totaling your $ value amount Nanna MUST approve with your purcash right in front on the table.. Cheating is not allowed under No Non-cents Nanna rules.
Basically the customer will ring up their own orders as if they were ordering on-line rather in in person. Local and State sales taxes will be collected. Should shipping be added ask Malika Bourne for a FREE shipping CODE to delete it. ( The on-line store is LIVE with outside customers buying elsewhere during this event as well.)
Customer Questions? Call Malika Bourne 719-291-4914 10 AM to 6 pm. Note: No one is standing by. Malika will get back to you as soon as possible. Thank you.
---
No Non-cent Nanna's Heart Felt Play Store Spring Cleaning to Stocking Stuffers