Hits: 57
Colorado Springs little monsters and ghouls are invited to Trick or Treat the vendor tables with their parents at the Hilton Garden Inn Holiday Hoopla on October 31st!
This fun filled event is organized by Broad WAY Productions, Colorado Springs.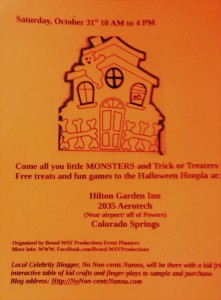 …………………………………………..
SNEAK PEAK  at Vendor Table of Malika Bourne:
Join the fun from 10 AM to 4 PM for the not so scary Day of the Dead Event at the Hilton Garden Inn with many of Colorado Springs finest vendors.
All vendors showing at the Hilton Garden Inn on October 31st are invited to send sneak peak photos of your wares to the author of this blog.
I will add your photos to this blog and more upcoming posts.
Email: Malika@MalikaBourne.com
……………………….
More Sneak Peaks at Vendors Wares at the Day of the Dead Event in Colorado Springs are provided as a courtesy by Malika Bourne!
Get Glazed Pottery  


See the website to get code:FREE CHARM CODE: 

Stock available at the show on October 31 may vary from images.
See Get Glazed Website for contact information of this fine vendor.
Click this link to view some Glazed Pottery possibilities for your home:
http://www.getglazedpottery.com/
Illusionz Customz will be there with creepy and spooky creations sports teams and top selling hand made custom engraved glass im taking orders starting tonight feel free to ask questions and dont forget to like and share the shop page https://m.facebook.com/illusionzCustomzglass

Check out the Local Etsy Listing for Our Day of the Dead Event!
 Here is note from Heather about her psychic reading the October 31 event at the Hilton Garden Inn n Colorado Springs:

Hello Vendors and friends. If anyone would like to attend one the two audience readings/mediumship demonstrations gatherings I am offering, you can save $5 per person by reserving a seat via my website instead of just walking in. Each demonstration holds only 30 audience members MAX. My website shows the two times listed under the event. Purchase your seats for the chosen time. Thanks! Sounds like such a fun day and I can't wait to check out everyone's tables! ~Heather

Psychic Medium Heather Hunter
…………………………….
Current list of vendors:
Psychic event -Heather Hunter Psychic Medium &Holistic Therapist –
Usborne Books Samantha Armbruster -Consultant ‪#‎l4835‬–
Scentsy – Jennifer Manly –
SoCo Craftwerks – SoCo Craftwerks –
Jamberry – Alissa Briggs –
Stella & Dot – Tracy Lee McLaughlin-
Mary Kay – Heather Boulse-Forsythe –
It Works! Michelle Sanchez –
Younique – Lauren J. Moderow –
Infinity Wooden Roses – Michelle Armijo Salazar –
Tarot readings by Donna Donna Price –
Expressions by Sandy Sandy Tramaglino –
M.A.R. Photography Mike Rodgers & Krystal Rodgers –
Glamour Garage@ Renee Jean Kenyon –
JewelScent – Sandi Snyder –
Thirty One Gifts Totes and more by Lee Rabidoux –
MCC Pottery Sue Cowles –
2 Gypsy's Lemonade- Patti Jo Wagner –
Miche – Molly Reece McCollum
**** (Author of this blog) No Non-cents Nanna – Malika Bourne – 

Pottery – Chris Burch –
Premier Designs Jewelry – Mary Mcwilliams –
Partylite Candles & Accessories -Bernadine Manning –
Pampered Chef – Maggie Reilly –
Tastefully Simple – Karen Addison –
Tyra beauty line – Tandra Nystrom – paid
My Steel Treasures – Cheri Mark Baker
Origami Owl – Cyndee Lindt Turner –
From My Mommy to yours – Danelle Green –
Ali's kitchen creations – Jams and crafts – Alison Rouse
Uncorked & UnWine'd – Sherri Jewell-Owen
Face Painting –
Pure Art Paracord – Frances Busick-Villanueva
Pink Zebra- Brandi Andrews
Get Glazed Pottery – Teresa Staub
Illusionz Customz – Timothy Cisner
……………………………
ReVamped No No-cents Nanna 2011 biz page on Facebook. Check it out if you live in Colorado Springs area!  I need your lving to pass a milestone! http://facebook.com/NoNonCentsNannaColoradoSprings …