Hits: 180
Yes, there are plenty more things for kids to do besides sitting on their behinds playing video games this Summer.
Why not teach your kids or grand kids the games you used to play? Spending time with learning to play real hard and get dirty will be one of the child's favorite memories in the future.
There is a wonderful life out there to enjoy. Today, I found the Mother Load of all list of games with clickable links.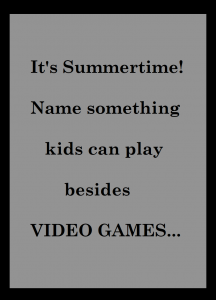 Update
 Pot of Gold at the End of the Rainbow
It's August. Do you know what that means?
Yep the kids are bored to tears and you wish school started up again 3 weeks ago.
I was researching, as I often do, when I discovered the List of All Lists of games for kids and clickable links
What to Do with Kids  click HERE
You wont't be disappointed. Try'em. You'll love 'em.
I posted this on the social media I use asking for help to make this No Non-cents Nanna List. My followers came up with a grand total 41 ideas.
We can use all kinds of ideas for when the weather changes:
When it is perfect outside
When it is raining outsides
When it is too hot outside
Somethings that are FREE
Somethings that are cheap
Somethings you have to save up for.
READY? Set? GO!
My Facebook followers came up with the list below. good job!
Swimming,
Kitchen science
hiking,
chores (lol)
basketball,
football
skating,
splash pad,
Hop-Scotch
Tic-Tac-Toe
LARP
Play with your food: peanut butter play dough
Read
Paint Signs*
Uno
The Game of Life

I played the guitar and piano. I worked my way through nurses training by giving music lessons.

Ghost in the Graveyard
Pull weeds or ride a bike or trike
Play an instrument
Hula-Hoop
Jump rope
Hide and Seek
 Four Square
Kick the Can
 Follow the Leader
 Crack the Whip
Tether ball
Write a story
Sing Silly Songs
Read  Silversteins Where the Sidewalk Ends out loud.
Draw a picture
Hang man
Throw gliders
Splash your feet in water puddles
Button Button who's got the Button?
Learn Limericks
Duck Duck Goose
Facebook follower who have help make this list: thank you.
*14. was inspired by a Colorado Springs Networking Friend: Sign Painting Party is so unique I just had to share -with permission from JenSAYtions
Pinterest Pinners ar welcome to join in making this list.
From Twitter Followers: Click HERE
UH OH! Twitter followers are still welcome to add to our list.
Promoted by HeartFeltPlayStore.com