More Good Reasons to Do Finger Plays with Kids
Finger Plays, Nursery Rhymes and songs may seen silly to some, but they are really great teaching tools for young children. By the way, college students use silly songs to help them memorize for tests.
This post will share 3 more good reasons WHY early childhood educators teach rhyming songs and fingerplays to young children; 3 more fingerplays; and links to 5 more of the Best finger play PINs on Pinterest; 4 links to kids favorite theme finger puppets.
Continuing on from my last few No Non-cents Nanna blog posts I have been sharing good reasons to do finger plays with the kids, besides the fact that kids love to chat those rhymming words and use their little fingers to make motions. Add a few finger puppets even more fun.
Finger Plays also encourage:
listening skills
large motor muscles like squating or jumping
fine motor movement
counting forwards and back wards, too.
Using the fingers in finger plays help develop small motor muscles.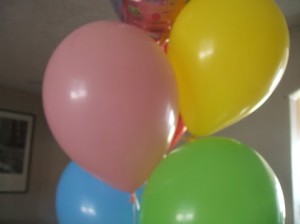 Does your child know this finger play:
I HAD A LITTLE RED BALLOON
author unknown
(You may substitue any color of balloon.)
I had a little red balloon
(Pretend to hold a balloon in between your two hands.)
And I blew, and I blew, and I blew.
(Pretend to blow up the balloon.)
And it grew, and it grew, and it grew.
(Spread your two hands further and further apart.)
I tossed it up in the air,
(Pretend to toss the balloon up with your two hands.)
And didn't let it drop.

I bounced it on the ground,
(Pretend to bounce the balloon on the ground with your two hands.)
And didn't let it drop.

I bounced it on the ground,
(Pretend to bounce the balloon on the ground with your two hands.)
And it went "Pop!"
(Clap your two hands together as you shout the word "Pop!")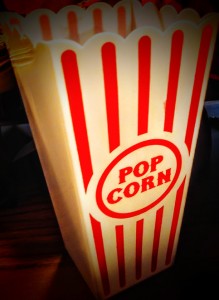 Five little popcorn seeds sitting in a pot
author unknown
(Children squat down low to the ground.)
Five little popcorn seeds sitting in a pot

One got hot and it went "Pop!"
Jump when they say, "Pop!"
Repeat with Four, three, two, one, and no more popcorn seeds sitting in the pot. For variation you may want to count all the children in the class room to start from that number instead of just 5.
Or, do the finger play in divided sets: for example if there are 20 children do 4 times in groups of 5.)
Note from No Non-cents Nanna:
LOL! I had a 4 year old student who  loved was obessed with the next finger play, Johnny Works with One Hammer. After he and his parents returned on a road trip hi mother asked me if I had taought the kdis any other songs beside Johnny and the Hammers. I replied, "Yes I had."
Apparentenly, the boy only channted one song on the 2,000 mile trip.
YIKES!
At that point I realized I needed to type up all the songs and finger plays for the parents so they could "sing" along with their children. At that time in my early childhood education carreer I was teaching 20 children from 7 different countries who first language was NOT English. I used many songs, finger plays and rhymes to teach.
Here is a supporting article: https://www.eslbase.com/teaching/using-songs-to-teach-efl
JOHNNY WORKS WITH ONE HAMMER
author unknown
Johnny works with one hammer,
(1 hammer – 1 fist pounding on knee)
one hammer, one hammer
Johnny works with one hammer

Then he works with two

(2 hammers -=2 fists )
(3 hammers =2 fists and one foot pounding/ stomping.)
(4 hammers = 2 fists 2 feet)
(5 hammers = 2 fists, 2 feet and head)
-after 5 sing
Then he goes to sleep. Z-Z-Z-Z!
Note from No Non-cents Nanna:
( I always snore really loud at the end.
The kids howl with laughter as I pretended to sleep with my snore. Allowing myself to be somewhat vulnerable lets the children see that I am human; perhaps not so intimidating as a grown up.)
I would love to hear your endearing stories about kids and finger plays.
More Links with the Words to the Best Finger Plays on Pinerest.
Why should I typ- words to my favorite fingeralys that I have taught over the decades when I copy and paste the links other teacher's blog posts who can type better than I can? Please be sure to thank the authors at these links.
The End
Did you now that the No Non-cents Nanna is the founder and owner of Heart Felt Play Store? Many images on this blog are of products sold in Heart Felt Play Store catalog.
---
Bug/ Insect Finger Puppets are FUN learning tools the encourage counting and verbal creativity.
Perfect party favors and affordable study incentive rewards.
#BusyBag
This set of 5 finger puppets are a bit larger and more detailed than some of our other finger puppets. Apx 1 3/4″ to 2 3/4″ . Not for children under age 3. Heart Fetl Play Store https://heartfeltplaystore.nononcentsnanna.com/products/finger-puppets-bugs-inspectsFelt pieces and finger puppets can enhance finger plays when organized in zip lock bags for "busy bags"; "magic bubble bags" for sensory play. Check out my Pinerest board FINGER PLAYS to inspire you to make your own or purchase from No Non-cents Nanna's Heart Felt Play Store on Shopify.
Where to find finger puppets sets? Click links below.
Related posts:
3 More Reasons that Finger Plays are Good Ideas for Little Kids
Early Childhood Development and Finger Plays Go Hand in Hand
Copy right images by Malika Bourne
Hits: 222