Hits: 499
Need DRAGON parts and Pterodactyl Wings Parts? We have good news and sad news…
If you have been searching for  Dragon Parts or Pterodactyl Wings on Heart Felt Play Store.. we have sad news… our dinosaurs wings and tails are nearly extinct… really…the tail end of our dinosaur costumes are no longer available from our supplier…they may be making way for other things…
Good News is we have a very few are still for sale at our new e-commerce host location while supply lasts.: HeartFeltPlayStore.com
Heads up on HeartFelPlayStore.com
We moved and re-opened at a very secure location…that 's good news…the bad news is that it takes this ole Nanna longer to set up… about 4 hours work per catalog page…. But it will be worth it the wait when we get all of our DROP SHIP pages set up...GREAT NEWS… Heart Felt Play Store will carry Melissa & Doug in time for Christmas. Yep, we added toys form the best kids toy company to drop ship from the US.
Are your kids ready to fly like a Pterodactyl?
Heart Felt Play Store can help you a little bit longer…. We have Pterodactyl Wings in 3 colors. These will make a dyno-myte Christmas gift for the kids… but the are going.. going……..Email us to see what dinosaur stuff may be still in our home based inventory. HeartFeltPlayStore@Gmail.com
Pterodactyl Wings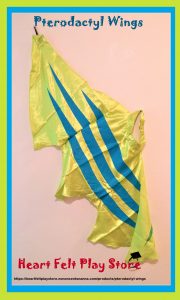 Our pterodactyl wings flew in…then few out—very fast….
Choice of 3 colors: orange, blue, yellow/green
polyester
61″ x 29″
Strap on when ready to fly!
Prices are subject to change. Inventory is limited. Since Halloween is upon us many costume parts are flying out the window at our home based shop. Click HERE for all the  fun DINOSAUR stuff we have at the moment in our HeartFeltPlayStore catalog – don't blink..it will change!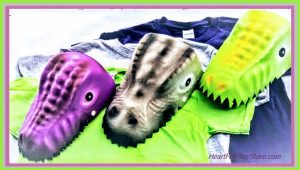 We do have one Purple Dinosaur Tail up for a Fun Raising Auction on September 27, 2018  Colorado Springs Housewives – housewivesinthecity.com
for Special Kids Special Families!
Email us for dinosaur stragglers left in our home based inventory stock HeartFeltPlayStore@Gmail.com Halloween time seems to scare always every kids favorite alter ego.
Little dinosaurs enjoy dragging their tails behind them with friends' at a birthday party; role play dress-up or school play.
These dinosaur tails maybe extinct soon…no longer available from our supplier.
Purchase the Purple on this page, green or red manufactured dinosaur tails that measure 22 inches long with an adjustable waistband fastener.
Manufactured: Polyester stuffed.
Machine wash on gentle inside a pillowcase is suggested. Be sure to attach the Velcro strips before washing.
Explore Heart Felt Play Store for more Jurassic dinosaur parts or affordable costumes parts for fun role play..
Free shipping on orders over $39.
Fun Dinosaur Activity for Your Kids Busy Bag
Mini Dinosaur Busy Boxes are perfect for a party favor or to stash in mom's purse for those time when the kids need something to quietly keep occupied.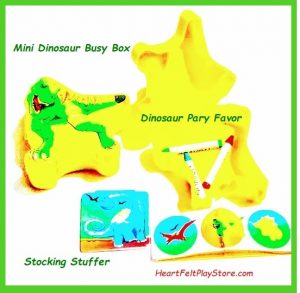 Simple Jurassic dinosaur party favors, small gift for clam down activities children love. Click HERE to purchase.
Need more than one? No problem. email us- Let Make A Deal I can give you a price break on multiples.
HeartFeltPlayStore@gmail.com Subject Let's Make a Deal
This set includes:
plastic 3 1/4″. case with ferocious dinosaur picture
12 stickers
notepad
three assorted crayons. Safe and non-toxic. Conforms to ASTM D-4236.
WARNING: CHOKING HAZARD
Small parts. Not for children under 3 years.
FREE shipping on order of $39 or more.
Click  HERE to purchase Dinosaur Bones Shine/ Reveal Book
Reveal dinosaur bones when held up to a light or placed on a sunny window.
This interactive spiral activity book is fun for young Jurassic explorers in the classroom.
Perfect Jurassic dinosaur party favors and clam down activities
Shine a light through 5″ x 7″ pages to reveal a bony "archaeological' discovery.
Each of the 6 dinosaur drawings has secretly hidden dinosaur skeletons
Great addition to a dinosaur theme busy bag along with a flashlight. ( Not included.)
Not for children under age 3
Explore Heart Felt Play Store for more dinosaur stuff the kids will love to explore.
Free shipping on orders over $39
Dinosaur Discovery Excavation Kit for Kids from Heart Felt Play Store
http://nonon-centsnanna.com/dino-myte-savings-on-dinosaur-tail-kits-at-heart-felt-play-store/