Hits: 214
I am preparing for some Summertime Crafts for kids to do at a local Summer Time event in Colorado Springs Saturday , July 21, 2018 from NOON to 4 at Tantrums Resale 511 No Union. I thought I'd share this simple kids' craft idea on my blog for everyone everywhere.
This post will break the paper ice cream cone craft preparation in basic steps. The end results will look something the the image below. My 7 year old grand daughter enjoyed making this in just a few minutes.
My goal is for every child at an event to feel special when they come to my booth regardless of abilities and ability to buy buy something from my store. My choice of crafts offers the opportunities on so many levels.  Completing a fun activity Is the accomplishment…the results need not be "perfect" in a grown-ups eyes.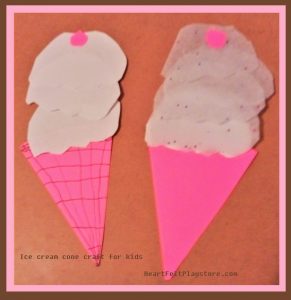 When I do an event I always offer a FREE craft for kids: no purchase necessary. This Saturday, July 21, the craft of the day is a paper ice cream cone at Tantrums Resale, 511 No, Union, Colorado Springs, Colorado.
Steps to prepare for Paper Ice Cream Cone Craft
Fold a paper plate into 1/8's. Fold in half first. Cut. Then fold each 1/2 in 1/2 twice the cut. You will have 8 pieces. Use as a template first then save to use later for another craft.
If I were in the class room, I would fold, cut and count with the kids for a math activity.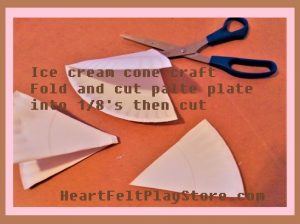 2.  Use one of the 1/8's as an ice cream cone template.
I had pink card stock on hand. You can use construction paper or even a paper sack. Re-purposed cardboard from a cereal box is more sturdy, tho' I think it is too hard for a 3 year-old to cut thought with kindergarten scissors. I would cut those my self after allowing the child to trace the template shape on the cardboard.
Trace the shape then cut.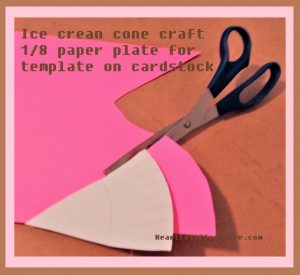 3. I had glittery white tissue paper and printer paper on hand.
My grand daughter drew the 'ice cream' shape and cut it out with no help from me.
I used her design as a template pattern to cut out the "ice cream" for the craft of the day.
When I was teaching in a pre-school I used multi-colors of construction paper for more colorful learning opportunities.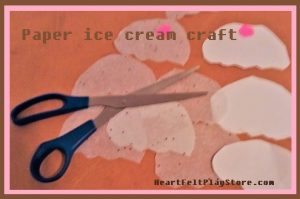 4. This is a sample of the just the ice cream cone before "scooping" on the "ice cream".
My grand daughter, Sophie-do-It used a pen to draw on the texture of an ice cream cone. I think it is pretty cool!
Every child will have their own ideas on how to make their ice cream cone.
There is no 'right or wrong' when a child designs a craft…as long as they are safe.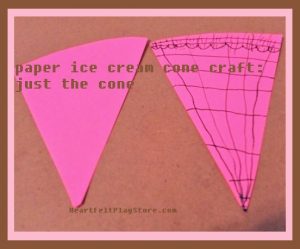 5. Our complete ice cream cone craft almost looks good enough to eat.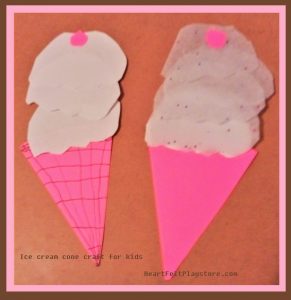 You may want to surprise your little artist with a real ice cream cone for a snack.
I do hope this easy activity will inspire Summertime table activities your own children. If I were doing the craft for a day care project, I would pre-trace a pattern on paper for the 3-5 years old to cut with scissors all by themselves….but…
Offering a free activity to children of a broader age range; unknown skills and unknown temperament…comes with a few challenges. I pre-cut everything.
Keep cost low: I don't want the expense of buying scissor for craft I offer for free.
SAFETY:I do NOT want to take the risk of a child running with scissors or cutting off  someones; long hair or clothes…that's another story or two from years of experience with kids.
KISS: Keep it Simple SilIy.)
I want to offer something free for all kids so they can walk away feeling good. That is a challenge in itself to appeal to so many developmental ages and stages. So I go for colors and textures that will yield creativity vs; precise cookie cutter patterns.
About my event table:
I, Malika Bourne aka The No Non-cents Nanna, author of this blog, owns the e-commerce store DBA HeartFeltPlayStore.com 
Connect HERE to share the LOVE with a LIKE on @HeartFeltPlayStore on Facebook Follow to get weekly parenting and activities tips.
I sell fun stuff for children ages 3 to 10 on-line everyday. Click HERE to explore my store.
I have oodles of experiences working with children..I am very good at it, too.
I believe in giving back to my community. When I do occasional events, of course I hope to sell product. i show and tell a few things from my shop. ( Easy pay POS from my on-line shop via your cell phone.)
I want to build good relationships in my community first. I believe in giving back to my community. Thus I offer a free activity for local children who want to participate in what I have to offer as a FREE activity. ( My guests pay for everything else.. but no child goes away empty handed for lack of ability to pay for something. I get valuable feed back form the kids on what they like or don't like. Its Win-win for everyone.
The Saturday, July 21, 2018 event at Tantrums Resale at 511 No Union, Colorado Springs, Colorado is organized by
Connecting Communities.
Click HERE to connect to Connecting Communities on Facebook.
Click HERE to see what's happening at Tantrums.
This day of indoor and outdoor fun will include the normal shopping experience at Tantrums Resale. It will also include shopping in the market of local vendors and business owners, hot food off the grill ($5 plate purchases), games, and more.

Invite your friends, share on fb, via text, and PM. You can even print the flyer and give them to your friends in person.
We love it when you share!
Thanks for stopping by today.