Hits: 38
Yes, a pre-school child can begin to learn basic sewing skills by making dolls clothes.
If you sew or craft with tools in front of your child those tools you use become very curious items.
Most little ones will want to imitate what you do with those very same big very dangerous tools.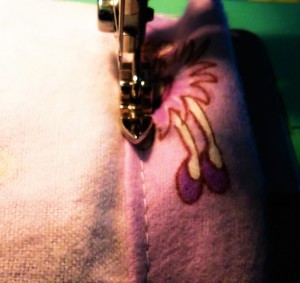 Don't worry, This old No Non-cents Nanna does not turn a 4 year old loose with an electric sewing machine or sharp scissors.
Continue reading for where to start basic training for pre-schoolers to learn to "sew" and why.
Think about these situations:
Have you ever noticed that a 4 year old will make a doll blanket out of wet wash clothe or a car out of box?

This shows they are thinking creatively.

Have you been aware of your child showing "interest" in what your are doing? Avoid ALWAYS saying" NO-NO!" Instead,encourage the child to ask questions or to get the "feel" of the tools you use.
Has your child been getting into the tools box or sewing box, without permission?
Are you worried your child will hurt themselves by sticking a fork in electrical outlet or cut the dog's tail off?
YIKES!
You are the adult..you SHOULD be VERY concerned about your child's well being!The do what you need do to keep the child safe
Tools like scissors, screw drivers, paring knives, power tools, sewing machines etc. are NOT safe if an explorer decides to checkout a butcher knife all by themselves for the first time! ( Maybe not the 3rd or 4th time either.)
it is time to begin to satisfy a child"s healthy curiosity about the Forbidden Fruits on their developmental level.
State the rules to the no-longer curious item.
Continue to put those dangerous items up out of reach.
So, what do we do?
We break down tasks into simple steps with RULES and a rewarding results such as making doll clothes.. or leaning how to spread peanut butter with a butter knife under all the safest conditions.
We tell the child to ask the grown-up's first BEFORE they decide to make something with big people' tools.
Get the child safe play version of the dangerous items we use so they can role play safely.
Teach your child a healthy respect for the tools only grown-ups all by themselves may use until the child is  a specific age.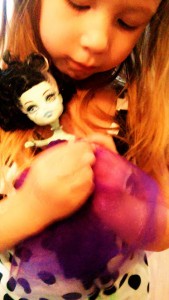 I know this post is about sewing with a 4 year old, so , this is what we did together step by step.
You can adapt a simliar situation that your and your child would enjoy doing together on their developmental level.
Visited the fabric store together. (Hancock's' has a big sale right now.)
She ooo-'d at the $22 a yard fabric while I steered her to the remnants at $3 a yard..
She picked out fabric in the most attractive colors in her mind. The most I paid was $1.50 for a small piece.
We rolled out her top 3 favorites alongside 2 dolls.
We dreamed about what each one would be so fabulously amazing for what doll.
I laid out my big shears on the hot pink material. "Do you want to cut his or shall I?" I asked.
The scissors were too heavy for her, so I was elected to do the cutting. The 4 decided to sit at her table with her safety scissors to cut paper. (Don't count on every child making the best choices. Should they choose the BIG SHEARS..show your child how to use the shears.)
Nanna"sewed"a doll blanket and added little scented sachets for doll  pillows.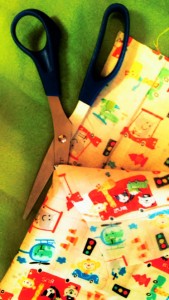 Sewing a doll blanket with a remnant of hot pink fleece is so easy.
Cut the material the size that fits a doll of choice.
On the sewing machine stitch a few inches from the border .
With sturdy scissors cut into the fabric to make fringe. (Try holding the child's hand on your scissors to cut a few fringe strips. Generally this effort satisfies the child.)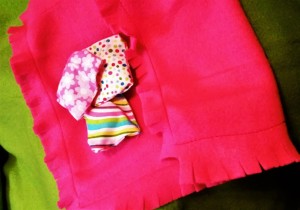 Simple doll pillows.
Last year I had started making 2×2 inch scented sachets.For some reason kids love this little item.
Turn the fabric right sides to right sides
Stitch around 3 sides.
Turn right side out.
Stuff with a cotton ball.
Hand sew the open end closed.
I left the happy 4 year old pick out the number of pillows her doll "needed" to go with the simple blanket.
Of course she used a tissue box to make up a bed for her doll.
When my daughter came to pick up her young one the 4 year old proudly announced, "Nanna and I sewed for my doll!"
…to be continued. Click to read Part 2 
Coming soon: Reasons WHY begin to  teach a pre-school child to sew?
Note from No Non-cents Nanna:
NEVER EVER count on your child obey"No-NO! Don't touch" command.
ALWAYS keep non-safe items and products out of young child's reach.
Even after teaching safety rules and letting the child step by step learn how to use a potentially dangerous household tool continue to keep ALL dangerous items Child-Proofed.