Hits: 160
Dog loving families in Colorado Springs, Colorado are begining to look for stocking stuffers or party favors with a puppy dog theme with out buying a live puppy..
No Non-cents Nanna offers fun and budget friendly collection with a puppy dog theme in her Heart Felt Play Store catalog. ( No onger sold on line. Close out inventory is making its way to TANTRUMS in Colorado Springs. )This collection offers inexpensive items for the kids who want have a pretend dog, when the family is not in the postion to have pet.
Keep reading Puppy Dog Stocking Stuffers/ Party Favors for where to purchase puppy dog theme items kids love and links to dog theme games; activites and more.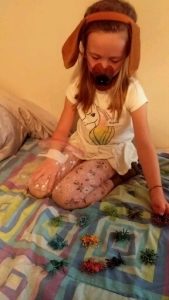 For the best collection of over 350 pet related favor games; party favors; snack with puppy dog or kitty cat theme see No Non-cents Nanna Pinterest board It's Raining Cats and Dogs.
Please note: all No Non-cents Nanna post with Heart Felt Play Store products are being edited. Heart Felt Play Store releuctantly closed per permanently on-line due to health issues. Remaining inventory is now being introduced for sale at TANTRUMS kids consignment in Colorado Springs, Colorado.
The beauty of buying from a one grandma owned on-line store is the opportunity to communicate to the owner what it is you really need. Don't see what you want or you need just one more than the package offers? Feel Free to use ask.
The No Non-cents Nanna has volunteered to help the kids with crafts and simple games at Tantrums Saturday November 25, 2017 while mom shop. Tantrums is participating in SMALL Business Saturday with $1 cupcakes;  $ toy bags; $1 rack of kids clothes; 20% to 30% off of select kids clothes. and 20% off of my No Non-cents Nanna's brand new fun stuff for kids from Heart Felt Play Store inventory.(On-line Heart Felt Play Store  has closed shop on-line.)