Hits: 44
Are you not wanting to buy a Halloween costume but still want to LOOK like you dressed up as your alter ego?
I know many people are flying into Colorado Springs air port in October then stay at the Hilton Garden Inn- without a halloween costume!
So, I got the crazy idea to be renting out "body part" costume props for 10 minutes @ the rate of 50 cents per person at an up coming The Day of the Dead craft show on October 31 at the Hilton Garden Inn.  ( I will sell for full price, too, staring at 25 cents up to $3.00)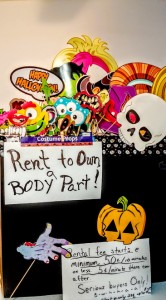 Note: No Non-cents Nanna rules apply.
See you at the Hilton Garden Inn 2035 Aerotech Drive, Colorado Springs for the Day of the Dead Crafter/ Vendor Show organized by Broad WAY Productions Event Planners of Colorado Springs.
The weather report says that Halloween in the Colorado Springs area will not be fun out side.
However…
…the kids are invited to Trick or Treat from 10 AM to 4 PM at the not so scary DAY of the DEAD Crafter/Vendors in the warmth and safety of Ballroom at the Hilton Garden Inn, 2035 Aerotech drive, Colorado Springs.
I, the No Non-cents Nanna have prepared not only candy, but, a load of non-candy goodies for the kids. And, don't forget that all the vendors, inclduing me, will have simple games to play at each craft table.