Hits: 47
In the early morning hours silly pairs of  dinosaur socks appeared on the catalog of Heart Felt Play Store. Was it by magic? No, it was the Shopify's  technology used by Heart Felt Play Store.
Silly socks will be POPPIN-up at Colorado Springs events in JULY.
Heart Felt Play Store Closed
during relocation until July 4, 2017
Sorry for the inconvenience!
Love socks! Get inpired by following Socks or one lonely sock on my Pinterest board.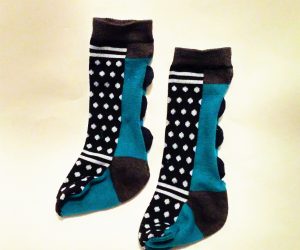 Sock History according to Nanna
In days of old when No Non-cents Nanna was young, socks were used to keep feet warm and protect our heels from blistering in our shoes. When a well worn sock got a hole in the heel we might make a sock puppet with one and dust the dresser with the other one.
To make my stockings fancy, my Grandmother taught me how to embroider flowers in the cuffs of plain white anklets. (Coming soon to Heart Felt Play Store.)
Back in the 1950's I never would have imagined such things as dinosaurs or online stores let alone crazy socks with spikes or faces sold on the computer…
What a great day to be living in! I'm sure enjoying re-creating socks and such for my grandkids to approve of before I publish them on my online Heart Felt Play Store.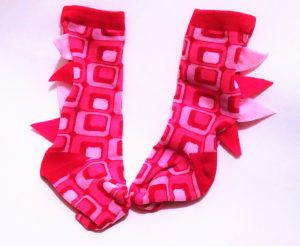 These designs of silly sock are actually out of stock, but…similar silly socks a re pre-destined to return to Heart Felt Play Store.
Meanwhile check out the Dinosaur Collection. Click HERE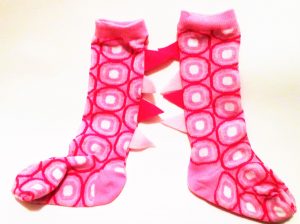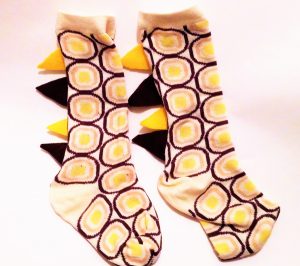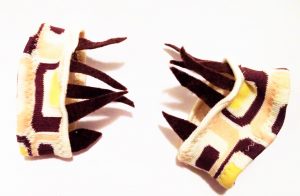 More Silly Sock are Bugging Out on Heart Felt Play Store
Use these for hand puppets. How silly!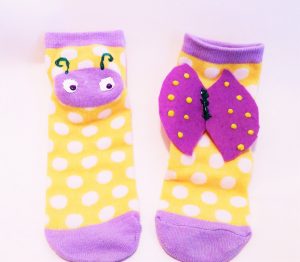 It's time to prop up my bare feet. I have more and more silly socks to stitch with you in mind..