Hits: 518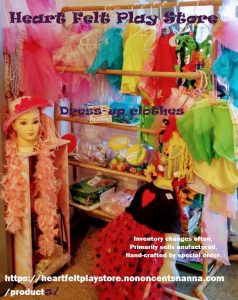 Heart Felt Play Store announces, We are Moving our online Store Location.
I'm excited you dropped by my No Non-cents Nanna website and blog because…you get updated sneak peak of a few items that are currently on consignment at TANTRUMS kids consignment in Colorado Spings Coloardao.along with an updated list on my fun-filled collections that kids ages 3 to 10 love. Parents don't have to tell the kids about the educational value unless you want to.
---
Kids love to play with dinosaurs.
Kids will love the newest products on Heart Felt Play Store.
All of these include elements of
dramatic play; lots of dress up accesories in the making.
small motor manipulatives;
math,
science,
imagination,
fun,
safety and
affordability.
Plus I collect more links that will inspire you how to use my fun kid theme products.
Fell free to browse through my blog posts and share with your friends and family by pinning to your favorite boards.
Are you following No Non-cents Nanna on Pinterest,  yet?