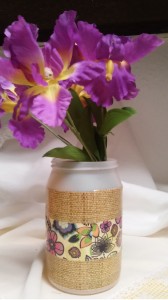 I can make a re-purposed vase from an Ovlatine jar and Duct Tape that looks like burlap
I don't know about your dad and you ,but my dad made sure I never left home with out a ROLL of DUCT TAPE in my car.
Well, my late father was as smart as he was creative – and I got some of his genes. He would so proud to know  how creative I have gotten with really cool looking DUCT  TAPE.