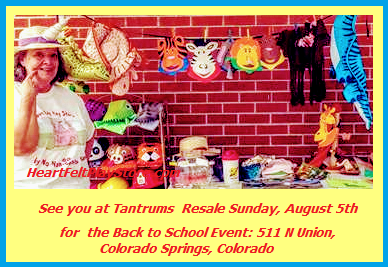 Hits: 135
Malika Bourne the No Non-cents Nanna is organizing a weekly Play Date for pre-K kids in Colorado Springs as fun community service for our local area families at Tantrum's Resale, 511 No Union, Colorado Springs, Colorado.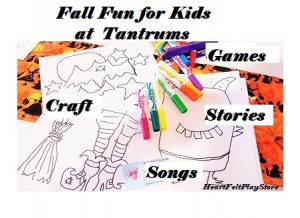 Our Fall Fun Play Date at Tantrums will Kick-Off Tuesday, October 9, 2018.
Due to popular request for play date meeting spots it is recommended to reserve a 15 to 20 minute Play Date activity session with Malika Bourne the No Non-cents Nanna by getting an Eventbright ticket. Click HERE
DESCRIPTION
Kids can have a Tantrums Play Date on Tuesday or Friday in October in Colorado Springs, Colorado
Fall Fun at Tantrums Resale
 starts Tuesday October 9th. Kids will enjoy games, crafts, kids poems and songs lead by Malika Bourne of 
Heart Felt Play Store
 while Mom shop in store at 511 No Union, for Fall/Winter clothes and costumes.
(Limited to 15 to 20 minute sessions is generally the attention spam at age 2 1/2 to 6 years.)
It's FREE- Donations for supplies accepted. Upon requests we can offer packaged crafts at a reasonable price.
Kid Friendly Play Date: for the Colorado Springs, Colorado area neighbors
We will have a short story; fun songs and finger plays, a simple craft and a large motor game. For parents with Eventbright tickets you will get to take home a fun hand out sheet from Malika Bourne aka No Non-cents Nanna
Organized groups (example: day care) of more than 2 or 3 are welcome and should schedule 1 week prior while space is available for a small fee per child assessed for craft supply package agreed upon for groups Group leaders must be present in store to maintain proper ratio – NOT a drop off fro small children. A responsible adult must be in the store.
Reservations/tickets not required for a single child and parent, but, it will help Fall Fun at Tantrums to prepare craft supplies and keep the number of children (3 to 6) participating at a size ( age 2 1/2 to 6 years ) so each can receive individual attention by the group leader Malika Bourne. First come with reservations-first served.
Rules: Parents shall be responsible for their child's behavior at all times. Feel free to shop in the store as long as the child is comfortable with the leader at the craft table. Children are not allowed to open packaged merchandise while in the store. Opening or breaking merchandise will be a considered sale.
LOCATION
511 North Union Boulevard
Colorado Springs, CO 80909
…….
FYI Explore our store: We will be bringing a few select products to our Fall Fun Play Date to sell. Pre-order and you can pick up at Tantrums -save in shipping fee.
To Explore HeartFeltPlayStore.com Click HERE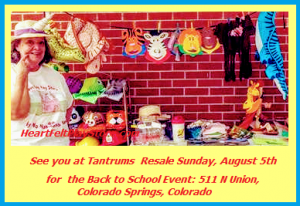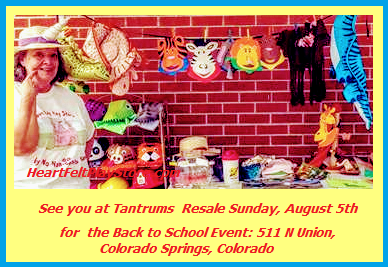 ……………….
Have you seen No Non-cents Nanna  Heart Felt Play Store listed in  Macaroni Kid Colorado Springs? Let us know…
Check you local Macaroni Kid editions for Fall Festivals
For our neighbors in Colorado click on the title below to see the Fall Calendar
Fall Festivals in Colorado Springs
2018 Guide
By Nicole Hoeper, Publisher of Macaroni Kid Colorado Springs
Aug 12, 2018
Heart Felt Play Store Does Not do Black Friday
https://www.eventbrite.com/o/heart-felt-play-store-and-tantrums-511-no-union-colorado-springs-colorado-17911745645