What Can YOU Make with Duct Tape that LOOKS Like Burlap?
I can make a re-purposed vase from an Ovlatine jar and Duct Tape that looks like burlap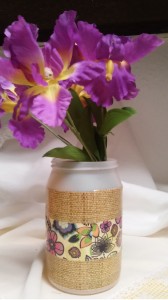 I don't know about your dad and you ,but my dad made sure I never left home with out a ROLL of DUCT TAPE in my car.
Well, my late father was as smart as he was creative – and I got some of his genes. He would so proud to know  how creative I have gotten with really cool looking DUCT  TAPE.
DUCT TAPE can be cute with scissors..
.. tear it the edges look rough like real burlap.
Don't look at BIRDIE.. look at the VASE!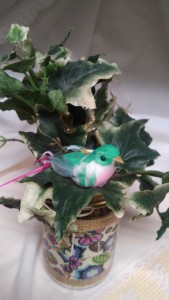 In the above image I choice a floral pattern DUCT TAPE then trimmed the re-purposed  jar with the burlap patterned DUCT TAPE.
I added some plastic ivy and a pretend bird fun a sample.
Duct tape craft is a perfect craft for a lazy artist like myself. It is easy enough for kids to do…
..as long as yo don't give then a full roll to wrap around the house…
DUCT TAPE is sticky, of course, so you don't need glue.
Duct tap has straight edges that make it easy to adhere to a straight line of an edge.
You need to go slowly-a inch at a time as you carefully stretch in place.
It can be some what forgiving if you need to left and re-stick a little at a time.
Got a wrinkle? No problem! Most wrinkles can be smoothed out.
I will taking these one-of -a-kind re-purposed items to Fresh Fridays in Colorado Springs.
Are you ready to make something fun with DUCT TAPE, too?
I am Malika Bourne the No Non-cents Nanna saying Make Good Choices!
Note from the No Non-cents Nanna: I love it when you share.Please keep in mind copy right of all images on-line belong to someone. If you did not make that image nor have permission to to use it  you could get into some legal trouble.
Since I am persnickety, I ask you to please leave me a  comment that you intend to PIN in order for me to give you permission to use my images…saves us all a lot of hassle. Do't you agree?
Thank you,
Malika