What is Cuter Than a Bugs Ear and RePurposed with Duct Tape?
Have you ever seen Lady Bug duct tape? It is so stinken' cute!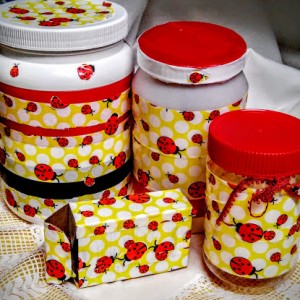 Well, now you have seen my re-purposed jars and a little soap box. These items will be sold at Fresh Fridays Market hits coming Friday located in the back parking lot at the Hilton Garden Inn, Colorado Springs, Colorado.
(Fresh Fridays is held every Friday through October 30th .)
HI, everyone! I'm Malika Bourne aka the No Non-cents Nanna.
I've been making some changes that include having fun with duct tape and my stash of "I might need it some day"  *jars and boxes.
Re-purposing with duct tape is really easy..the hard part was handing over almost $24 for 6 rolls of Duct Tape to the clerk at Wal Mart… but I'm gald I did..I'm having  a blast making something new to take to Farm  Fresh Fridays Market!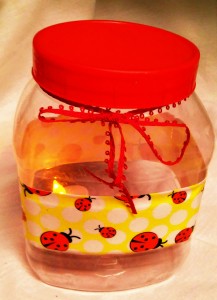 Fill this adorable DOO_DAD Jar with any thing you want.
pennies or $100 bills -your choice!
marbles so you always know where your marble are..
receipts for you tax records
little toys.
 you lady bug collection
 shine a LED fake candle in side, like I did, for a nice effect.
What would YOU put in this jar?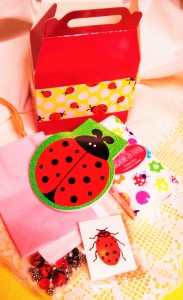 Mix and Match Lady Bug items ; buy one or buy all ( Stock is limited and going..going…_!)
Can you see the lokk in a little girls eyes when they see these little gifts? I know when my 9 year old grand daughter saw these lady bugs goodies her eyes sparkled like see she saw diamonds in y re-purposed crafts.
FYI: the note pads, DIY bracelet, tattoo and tissues are all NEW!
All my duct tape craft items are one of a kind.When SOLD there may never be another one exactly like it.
Note from No No-cents Nanna: Showing how much you care about someone is NOT about how much money you canspend on the perfect item. In fact most children love the opportunity to use their imaginations with those who love them.
*We Baby Boomers and our parents who lived through the Great Depression understand how throwing away any thing that can be re-used over and over is MUST.
Related eBooks