What Can a 3 year old do in the Kitchen?
Before the COVID-19 health scare, many parents were sending their pre-kindergarten children to day-care so they could work. but, now many mom and dads are staying at home self-isolating with 3 and 4-year-old kids during the day they are asking, "What can a 3-year-old do in the kitchen with me to keep them out of mischief?"
A 3-year-old can do plenty in the kitchen to help out and can the 4, 5, 6…year old kids. The kitchen is the perfect place to not only eat but learn math, trading, science adn more.
The family kitchen is an important part of a child's growth and development. In this post, I give you 8 ideas of what an even a young child of 3 and older CAN do to help in the kitchen.
When a child participates in tasks of daily living their self-esteem is encouraged to bloom.
A child of 2 or even can pick out cherry tomatoes from a basket to put them into a serving bowl.
2. Another good place to start cooking with a 3-year-old is to let him/ her lay the cheese on bread. count the pieces of bread. Then count the pieces of cheese.
In this image, we are making grilled cheese. Soften the butter for your child to spread on the bread.
This may be a good time to talk about the concept of "more and less".
Let the child work at a comfortably low table their height.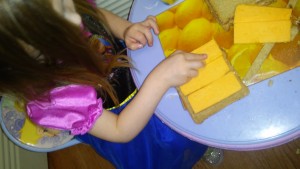 3. A 3-year-old can mix muffins. So can a 17-year-old.
It is not crucial to have the batter fluffy or all the lumps out.
While I often bake from scratch, I make an exception with those easy packaged mixes for the little ones to start.
The most important part of learning is the order of the process with concepts as first, next, last.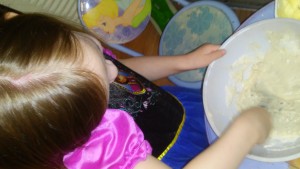 4. A 3-year-old can learn to grease a baking pan. with butter…lots and lots of butter..then more butter…
..and that's OK.
The world will not come to an end nor your cholesterol raise THAT much to matter with this small baking dish.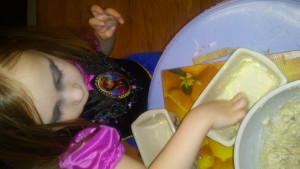 A 3-year-old can pour the muffin batter into a baking dish.
OOPS! So what if some batter spills?
A 3 year-year-old is capable of wiping up the spill. Be sure to let your child know that most cooks in the kitchen do spills sometimes, too.
If a pre-k child can clean up a spill fairly well, just think about what a 12-year-old CAN do, too.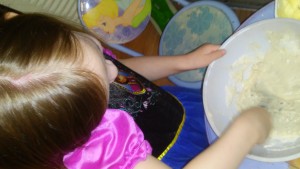 5. While we are waiting for muffins to bake a 3-year-old can learn how to cream butter.
In this image, she has added some orange essential oil t the butter.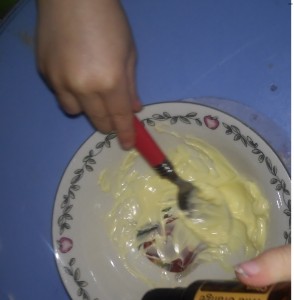 6. With the fresh-baked muffin bread only taking 12 to 14 minutes the process of waiting bearable.
Use a timer to time the 14 minutes or so.
In a minute or 2 announce that there will only 12 minutes let…10 minutes left…3 minutes left to keep baking..
7. Enjoy the aroma together.
8. Now eat the food together!
See the smile on her face as she butters her muffin bread?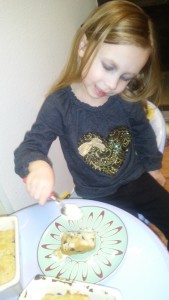 When you do things with your child in the kitchen you know what the child is safely doing.
I am Malika Bourne the No Non-cents Nanna saying Make Good Choices!
……………………………………………………………………
Related resources:
Now, it's your turn…
What are some more of the many things a 3-year-old can do in the kitchen?
Hits: 42