A Dozen Ideas to Make A Tee-shirt into An Animal and More
Do you need a cheap dress-up costume for a school skit or a birthday party activity that the kids will remember and wear long after the gift wrapping paper is thrown away? this post will get you started thinking of ideas that you can make with what you have in the house and a few little extra costumes parts.
Watch this short video below for some inspiring ways to use basic TEE-shirts a pair of animal ears a tail or maybe a visor with a cute animal face.
To Explore Heart Felt Play Store Click HERE to begin discovery all the fun stuff for kids you can't find just anywhere or all in one place.
Click HERE to view current Tee-shirt and animal costume accessories.
No Non-cents Nanna loves it when you PIN. Check out our Heart Felt Play Store boards on Pinterest.
Cheap Cow Costume
You can so do this yourself.
tee-shirt
Cut felt pieces into irregular shapes
Use fabric glue or hand sew onto tee-shirt
Tail is made from a long scrap of cow pattern fleece. Cut the end for fringe. Use a safety pinned to the back
Cow Visor is manufactured. ( No Non'cents Nanna's Heart Felt Play Store did have these adorable cow face visors in the catalog. They only fit small child heads…unless you want to cut the elastic in the back. Replace it with a long piece of elastic or a string. I do have a few to take to a local Pop up Shop at Tantrums Resale. in Colorado Springs,CO. Feel free to email me to work out a deal if you find these too irresistible.
HeartFeltPlayStore@Gmail.com Include your phone # and best time to call you back.
We HEART it when you PIN: Follow our Heart Felt Play Store Boards on Pinterest. click HERE
Give a big ROAR for Dinosaurs!
Add a back bone spine to your dinosuar costume
Here is a fun Dinosaur Party activity for the birthday boy and 2 guests.
Wear plain or add dino-spots. Top your head with a molded dinosaur hat.
Dinosaur Party of 3 with Tees-shirt and molded dinosaur hats. Click HERE.
Use a paper plate as a template, cookie cutters or stencils to decorate a Tee-shirt.
Need someone to Brain-Storm with about decorating Tee-shirt?
Email, No Non-cents Nanna at HeartFeltPlayStore@gmail.com Replies within in 24 to 48 hours.
20 Ideas for Kid's Tee-Shirts to Accessorize for Make and Take Arts and Crafts
Does everyone really want to be a cat?
Tee-shirt
Cat ears Headband
Use eye liner to draw on whiskers
If you want you can paint your face more elaborately with face paint…it's you choice just for the fun of it.
Giraffe Beanie with Child's Tee-shirt Click HERE
Construction Hat with Child's Tee-shirt Set for 3 Click HERE
Use fluorescent duct tape from Dollar Tree to add safety stripes to the shirts and hats.
Below is the beginning of a construction workers shirt. I constructed real fast for an out door event. When I complete the project I will cut down the middle , add more duct tape and have a vest.
When I get this completed I will update.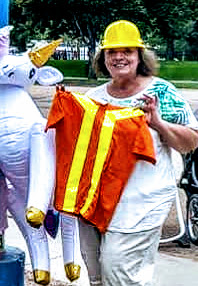 .
When your kids act like monkeys let them dress the part with:
I would use an old brown sock. Cut it in half keeping the heel so the tail curls a bit. then sew up so it is skinnier like a monkey tail. Stuff it. Safety pin it to the rear end.
Monkey Visor with Child's Tee-shirt Click HERE
Another idea for a tail for a monkey, a cat, a dog etc is to roll up a sock. Then wrap duct tape around it for a tail.
Really Cheap Monkey Costume
Tee shirt
Cut the corners to round of the corners of a light colored piece of felt or scrap of fabric form what ever you have that you don't care if you cut up. Maybe an old tee-shirt.This will be the belly. For older monkeys, (not kids) you may want to use a magic marker to draw on a six pack and nipples.
Use fabric glue or hand sew on the front of tee-shirt.
Cut brown and pink ears out. I used brown and pink felt. You can use a brown paper bag for ears.. Fold the material in half. before you cut. Leave the fold
un-cut.
Use any headband you have in the house. I get headbands at Dollar Tree. Fold front and back of the ears over the head band . Glue or hand stitch the front and back together.
Use an old panty hose leg or brown sock to stuff for the tail.
Let's Give a big ROAR for Dinosaurs!
Kids love dinosaurs every day of the year. Not just for Halloween costumes
How to Give Your Dinosaur Some Back Bone
The mask color did not come out too well in editing the tee-shirt. You can buy Foam Dinosaur Masks in sets of 6 from my Hear Felt Play Store Click HERE
For those who only want one mask…how can you chose? They are so cute. I sell them for $3 each at local Pop Up Shop currently at Tantrums Resale in Colorado Springs, CO. For those of you who really really want just one mask, fell free to start the conversation by emailing HeartFeltPlayStore@Gmail.com Feel free to ask for more ideas on putting together a Dinosaur Dig.
Minimum postage starts at $3. That's not my idea but the US Postal System's idea
You have been waiting patiently to learn how to add the spine on this dinosaur shirt here goes my secret.
Fold the shirt in half with the back side facing up.
Mark a strait line down the back starting 1/2′ to 2″ below the neck line binding. Draw the line down to about 1′ or 2 " above the hem. You can use chalk or a marker/
CUT with scissors on the line. Sewing shear will work best. Yep, I know it feels scary the first time. But if you use a Dollar Tree Tee-shirt, It's only $1
Have your pre-cut felt spine stripe about 3-4 " wide. the bumpy part of the spine can be rounded off or in triangle points.
Fold the strip in !.2 long ways. ONLY cut one side of the felt strip in about 1/2 the way. It is too much work to cut single pieces.
Turn tee-shirt inside out.
The flat side will go right side to right side of the tee shirt. The un-cut straight edge will line up with the straight edge of the tee-shirt back. The points will be inside for now. It may not seem right until you turn the shirt right side out.
Pin the seam together.
Sew by machine or by hand about 3/4 ' depending on how wide you cut the long strip.
Turn your shirt around.
Tah -DaH. A Dinosaur with back bone!
Don't you just Dinosaur Dig this example of how to craft a tee-shirt? Our 8-year-old neighbor boy designed this Tee-shirt.
Plain Apple Green Tee-shirt click HERE
Own very own Sophie-Do-It used a heart shape paper plate template to start her bug/ butterfly body.
We put a sheet of paper between the Tee-shirt layers to avoid possible 'bleeding".
Miss Piggy Wanna-be
Being a pig is all about the snout..oink…oink! And ear headbands help to pull it off.
No Nn-cents Nanna just happen to have the nose and ears in the Heart Felt Play Store catalog. Click HERE
Three Little Pig's Noses HERE for set of 3 pig snout oinkers. For just one nose email us HeartFeqeltPlayStore@Gmail.com to request jut one little pig nose at $2 each. I must warn you tat when mailed all by it's lonesome the postage will start at $3.00. the postal zones away from Denver may add to the postage fee of up to $4.00
Pretty in pInk tee-shirt ( size 6-8 only ) Ping nose and pig ears. Click HERE
Plain Pretty Pink Tee-shirt and pig nose/ ears click HERE
Teen Turtle Tee-shirt
Start with a dark green tee-shirt and two shades of green felt.
Some people use a turkey roasting pan to spray paint. I'm too cheap. Besides, I know several boys who did not want to take off their teen turtle shirt so they slept int them. I don' t know if that meet safety standards for sleep wear, tho', but it sure beats sleeping on a turkey pan.
How to Make a Turtle from a Tee-shirt
Cut the large size rectangle piece of light green felt foe the under side of the turtle like the image above for the six-pack
Use a light marker to draw on the six-pack But, you could use fabric glue. Be sure to set something heave like a few books on top white the glue dries.
I used my sewing machine to stitch the six pack on as I sewed the under belly on. You could hand stitch , too.
How to Make a Turtle Shell Back
Use a dark green felt. I use the large sheets of felt some times.
Fold fabric in 1/2. so you have 2 layers. Do NOT cut on the fold
Cut with shears to make round or oval shape.
You can use fabric glue to adhere the back of the shell or you can sew. I use a sewing machine but you can hand sew the back of the shell.
Use a light marker to create you design something like I did. make as simple or complex and you have time.
I used Puffy Paint to give the a raise texture look.
Remember DiY your own costumes saves money. Unless you have all the professional tools and skills your costumes will not look like the way more expensive costumes in the POP UP costume shops. the results do not have to look perfect.
Making your own costumes with the kids is a fun family activity memory maker.
Are you following Heart Felt Play Store on Facebook? Get updates on special deals. the banner on our Facebook page will offer you a discount code.Click HERE
I try my very best to acknowledge every new follower on our Facebook page with in a few hours. Watch for your mention. I will be posting a unique Discount Code specially created for you and a few friends to use for a limited time. If I miss responded to you LIKE be sure to PM me and I will get back to you with in 48 hours.
 current no-budget video demonstrations
 click on links to the store
special product promotions and events
Hits: 1116