Little Girls Love Lady Bugs and Hearts Party Theme
Plastic bugs or bug tattoos are never out of season for kids. Play bugs are fun learning tool. Add a bug sticker to a lunch box note.
***Snail mail a DIY Lady Bug bracelet kit, a set of stickers or temporary tattoos in the US mail addressed to your little sweet heart this year for the surprise of her young life. Parents may make special requests for their children to get MAIL addressed to them from Heart Felt Play Store. Simply start the conversation with Heart Felt Play Store owner, also the author of this blog, by using the CONTACT form on any catalog page.
DIY Lady Bug Bracelets are BACK! and the kit is mall enough to be sent in a letter envelope.
Encourage the kids to use the small muscles in their hands and fingers by stringing beads for a necklace or bracelet like these lady bug bracelets.
https://heartfeltplaystore.nononcentsnanna.com/collections/diy-craft-projects-for-kids
More to BUG your kids with…
….interupting this blog for an exciting announcement….
You Got Snail Mail Kids!
***No Non-cents Nanna is bit old fashioned. She believes kids need to continue to experience recieving the old fashioned Snail Mail with their name on the envelope…you heard about You Got Snail Mail Kids here first.
How it will work:
The catalog pages for You Got Snail Mail Kids! will be up by September 3, 2017 on Heart Felt Play Store just for Snail Mail offerings. The stickers, tattoos or other little goodies will be priced to cover the price of the product and all mailing supplies fees. Prices will start at $2. Availability of the themes will change- al inventory in Heart Felt Play Store is limited. Viral items can sell out very quickly- so grab it when you see it or it may not be in stock later.
Parents will be able to order and for one order of pay once for have Snail Mail sent in 1 to 2 week increments over the next 30 to 60 days. Parents will need to use the CONTACT form on any Heart Felt Play Store catalog page to start the conversation PRIOR to completing the order.
There will be an educational letter addressed to your child with some fun lunch box jokes and such. How fun is that?
Once the order is ready parents will recieve a photo via email of the contents with the addressed envelope to be expected. This is done for safety..
…back to No Non-cents Nanna's blog post on BUGS!
---
Out dated but still inspiring….
No Non-cents Nanna was inspired by 4 year old Sophi-Do-It to make lady bug wings, wand and head band with lots of hearts. If you ask No Non-cents Nanna real nice she will dig these last years left-over hand-crafted felt lady bug wings out from the back of the closet. There are a few left… now taking bids for close out. Start the conversation by using the CONTACT FORM on Heart Felt Play Store.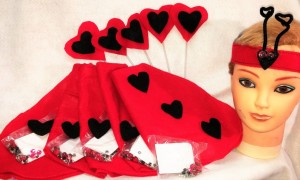 The red felt cape with back heart is attached to the child's back by slipping the arms through pieces of elastic.These wings are machine stitched to support the shape. The Hand cut black lady bug hearts are hot glued.
The double thick machine stitched head band has goolge eyes and pipe cleaner antanea hot glued. Velcro closes in the back.
A few of the above left in display stock. They will be included in dress-up sets on Heart Play Store by May 2017
Dare to be Different Lady Bug Tag-a-Long
Felt lady bug on a key ring can be attached to a lady bug levers back pack making it easily identified by a busy child.
Fun, yet healthy lady bug eats and treats:
Fruit and Chocolate Lady Bugs from the Soccer Mom.
Paint Stamping Bugs and Butterflies from Craft Train
Lady Bug Pretzesl from Meaningful Mama
Fun and Healrhy Apple Bugs Snack Tutorial
Ladybug Love Activities from A Kinder Garten Vintage
Free Lady Bug Printables from How to Nest for Less
Be sure to thank the above bloggers for caring adn sharing these fun treats.
No Non-cents Nanna's websites are powered by The Edge of Eternity Networks.
No Non-cent Nanna's Heart Felt Play Store Spring Cleaning to Stocking Stuffers
Working on Farm Theme for Kids Activities: behind the scenes sneak peak
Hits: 220